Profile

Pianist/improviser/composer. Currently living in Itoshima, Fukuoka, Japan.

Born in Kobe, Japan in 1963.
Began to learn piano (classical style) at the age of four. And began to improvise around 1986.
After graduating from Kyoto University (philosophy major),
Kawai got master degree in musicology at Tokyo National University of Fine Arts and Music in 1991.
Since late 1980s, he has been active to have a concert as a pianist/improviser.

Has released CDs "Jewelry" (his own works) "Piano Plateaux" (50-minute solo improvisations)
"Trio Improvisations at Artland" (with Hideo Ikegami and Hiroshi Shimizu)
"Guutai to Mizu" (in collaboration with dancer Marga JO)
"Licentia Poetica" (song album with Suzueri and Jyoji Sawada)
"Transition" (improvisations with Tetuzi Akiyama) etc.
Since 1998 his compositions have been played publicly. Among recent commissioned works :
"Han-ka-sei" (chamber orchestra), "Yesterday and Today" (15-min-long song), "Organza" (pipe organ) etc.
Has collaborated with many artists of other genres, e.g ballet and contemporary dancers,
butoh dancers, poets, tanka-narrators, visual artists.
In 2008 he toured in Europe (Paris, Amsterdam, Berlin). He was invited to play
in the "1st UnCaged Toy Piano Festival" in New York in 2011.

Now his activity is:
(1) improvised music concerts: though he thinks himself basically as solo player,
he often plays with other musicians. Recently he plays with Tetuzi Akiyama, Seijiro Murayama,
Katsura Yamauchi, Gianni Gebbia, Ab Baars, Ig Henneman, Hugues Vincent, Yasuhiro Usui,
Ken'ichi Matsumoto among others.
(2) concerts of his own works: his recent compositions include "Nobi" (piano cycle with recitation),
"kt" (piano solo series, Nos.1-5 already premiered) and he also writes many short piano pieces and many songs.
(3) concerts of contemporary compositions: he plays (solo or with other musicians) works
by John Cage, Morton Feldman, Giacinto Scelsi, Yuji Takahashi,
Mamoru Fujieda, Yori-aki Matsudaira, Hirokazu Hiraishi and others.
(4) alongside collaborations with stage artists as a pianist/composer,
Kawai himself does performance acting, moving, reciting these years. One of such performance is:
"Piano Theater: 10 strategies toward madness" premiered in Theater X 8th International Festival 2008.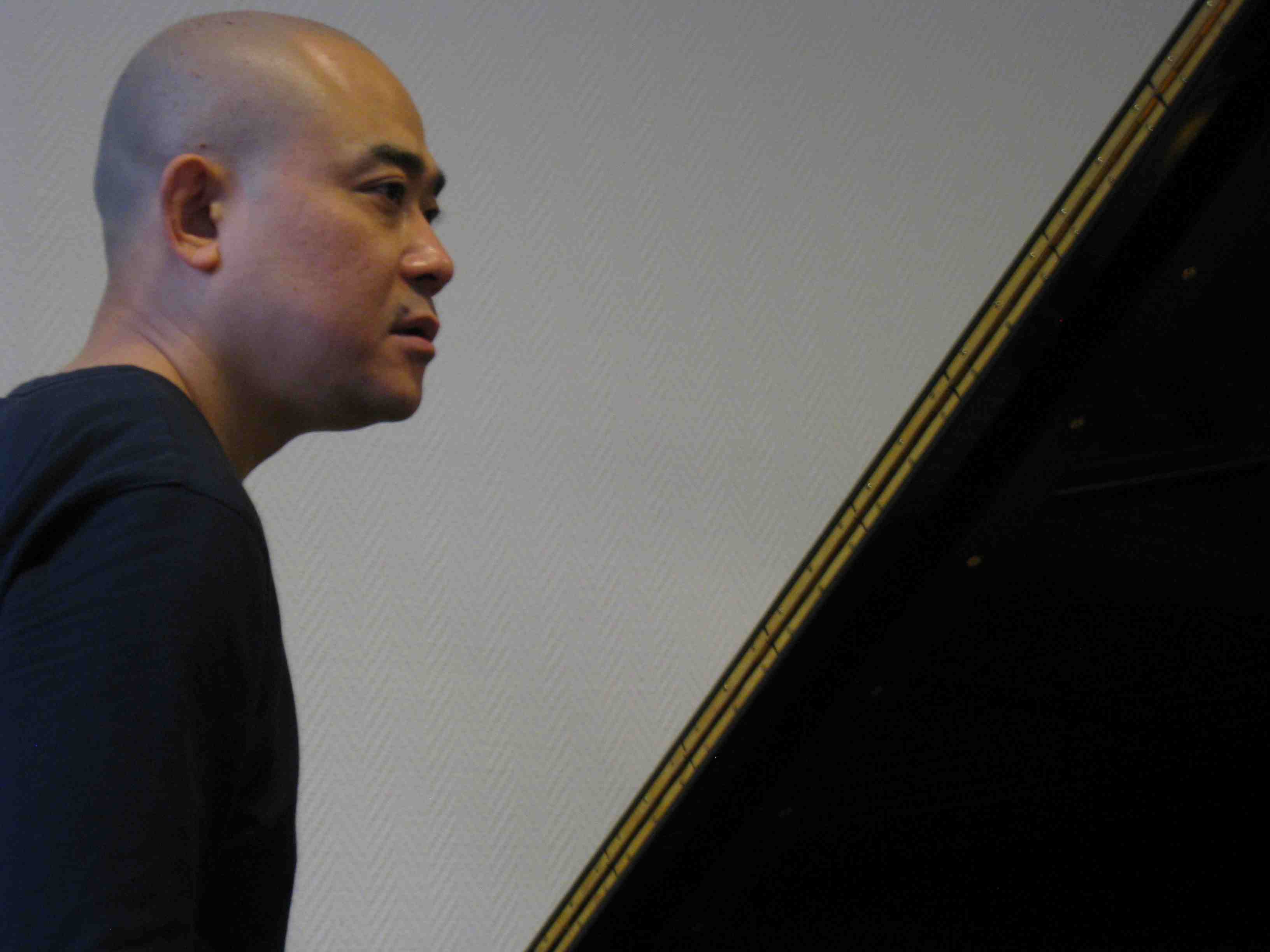 (photo taken by Izumi Ose 2008)
◆
◆
back to top page