Coolant filter paper roll
 This is a filter paper (chemical fiber) that is using for filtering of Grinding oil, cutting oil, rolling oil, coolant and washing agent. The material is by Rayon of None-Woven type and air permeability is high compared with general filter paper, and height flow rate is possible. It's chemical fiber paper, so strong in water-resistance, chemical-resistance, heat-resistance. There are from 5μ to 75μ 11 kinds of the filtration precision, you can get more accurate filtration.
 And it is usually set in a filtration machine, but you can use freely after cut and folds without filtration machine. So it's a economical roll type filter that is most suitable for a little filtration. Japanese product name is a PAPER ROLL FILTER.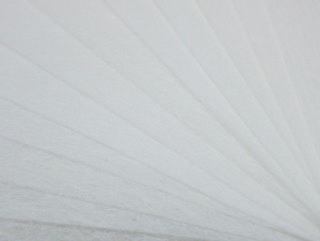 Specification
Item No.
Filtration precision
(µm)
Thickness
(mm)
Basis
Weight
(g/㎡)
Burst
strength
(kPa)
Water
resistance
(L/M)
Air
Resistance
(sec)
PRF01
65~75
0.39
40
160≦
6.0
0.5

PRF02
45~55
0.27
30
130≦
4.3
0.7
PRF03
30~40
0.35
40
170≦
3.3
0.9
PRF04
25~35
0.16
20
90≦
3.8
0.8
PRF05
15~25
0.21
60
110≦
3.0
1.0
PRF06
15~20
0.55
60
180≦
3.0
1.0
PRF07
10 ~17
0.29
30
120≦
2.5
1.0
PRF08
8 ~15
0.30
40
150≦
2.5
1.2
PRF09
5 ~ 8
0.37
50
160≦
2.1
1.4
PRF10
3 ~ 6
0.44
60
180≦
1.9
1.6
PRF11
2 ~ 5
0.51
70
190≦
1.6
1.8
※ The above numerical value isn't guarantee value.
※ Measurement method
   Filtration precision : JIS Z8901 7
   Thickness : JIS P8118 (ISO 534)
   Burst strength : JIS P8112 (ISO2758)
   Water resistance : Water /10c㎡(Calculated value)
   Air resistance : Air 300ml/φ10mm(JIS P8117/ISO 5636-5)

Regular Size and Price
Item No.
Width×Length
(mm×m)
Paper tube
(mm)
Price
(Roll/JPY)
PRF01
500mm×50m
φ40
JPY 4800
PRF02
JPY 6600
PRF03
JPY 4300
PRF04
500mm×100m
JPY 6600
PRF05
500mm×50m
JPY 3300
PRF06
JPY 7300
PRF07
JPY 4200
PRF08
JPY 5000
PRF09
JPY 5900
PRF10
JPY 8200
PRF11
JPY 7700
PRF01W
1000mm×50m
φ40
JPY 9600
PRF02W
JPY 13200
PRF03W
JPY 8600
PRF04W
100mm×100m
JPY 13200
PRF05W
1000mm×50m
JPY 6600
PRF06W
JPY 14600
PRF07W
JPY 8400
PRF08W
JPY 10000
PRF09W
JPY 11800
PRF10W
JPY 16400
PRF11W
JPY 15400
 ※ Lead time : About 7 working days from order.
 ※ Width and Length are Japanese size, So we can accept your request size.
 ※ We also have paper tube 58mm and 75mm.
 ※ Made in Japan